There was great excitement in school today as our adoption documentation arrived for the animals that we were able to adopt thanks to our eco-committee and your support for their charity calendar.
The committee and in particular Stanley and the Strong family, came up with the idea for a charity calendar featuring students' artwork and photographs, after the press highlighted the problems that Chester Zoo were having due to loss of visitors and therefore revenue during lockdown.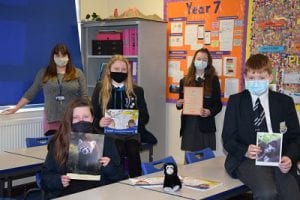 The calendar was a huge success and has allowed us to sponsor endangered species animals from both of our chosen charities, Chester Zoo and the WWF.
The eco-committee voted on which animals to adopt and it was decided that from Chester Zoo we would adopt a red panda and from WWF, a gorilla.
We will be credited at Chester Zoo on the red panda enclosure as supporting an animal and receive regular updates on the red pandas and the breeding programme at the zoo.
The Gorilla, on the other hand is an animal in Rwanda, on a nature reserve that is caring for their conservation. Again, we will receive regular updates on how the gorillas are doing.
Miss Connor, our eco-committee lead said:
"When Stanley came up with the idea of doing something to support Chester Zoo, the rest of the team jumped on the idea and the calendar came into being. We have previously supported the zoo by adopting a snow leopard and we have close links with the zoo through their outreach programme. We wanted to widen our horizon however and include providing some assistance to animals in the wild, hence our choice of WWF and their gorilla conservation programme.
 I am so proud of the eco team and their commitment and hard work. This has been a great project and has given us lots of ideas to take forward."
Thank you to all in the Birchwood community who bought a calendar and supported out team's effort and all those who were involved in the design and production of the calendar.
Watch this space for more innovative plans and activities from our award winning eco team!